Veronica Cool is the founder of Cool & Associates LLC, a management consultancy specializing in Hispanic Strategy, Workforce Development & Engagement and Training. A native Dominican, with over 20 years of corporate experience in the United States, she comfortably straddles both cultures and has seen and experienced the gap between Latinos and Mainstream America.
Cool has received various awards including the BBJ Leaders in Diversity, Innovator of the Year, Baltimore Sun's 25 Women to Watch, Top 100 MBE, US Hispanic Chamber Corporate Leader of the Year, Daily Record's MD Top 100 Women-Circle of Excellence and the US Hispanic Chamber Ultimate Latina Award. First Lady Michelle Obama recognized Veronica for her commitment to youth mentoring.
She and her team strive to build a bridge and connect these cultures to drive success. By effectively learning about each other's culture, heritage, traditions, we increase engagement, productivity, and satisfaction.
Veronica has traveled internationally on trade missions to foster economic growth and has spoken nationally in various conferences addressing topics such as Hispanic Engagement, Diverse Segment Marketing, Minority/WBE and entrepreneurship and Women in Business and Leadership. Additionally, she is a columnist for The Daily Record, Mundo Latino and Huffington Post.
That by 2060 there will be 119 million people of Hispanic origin in the United States
They will constitute 28.6 percent of the nation's population. Latinos run the gamut of technological savviness – either fully competent and knowledgeable on iPads, online application submissions, and mobile apps in both English and Spanish, or barely literate in either language. (Literacy levels are generally low, around 3rd grade reading/writing for some unacculturated Latinos.)
The answer is simple.
Hispanics wield over 1.5 Trillion dollars annually – money that you, as a business, restaurant, retailer, or manufacturer can attract. And to do so more effectively, you need a diverse staff, in this case, Hispanic staff that can connect with this particular market.
Inclusivity.
As a business and as a part of society, inclusivity yields tremendous benefits. So take time during this Hispanic Heritage Month to be inclusive and celebrate with your employees."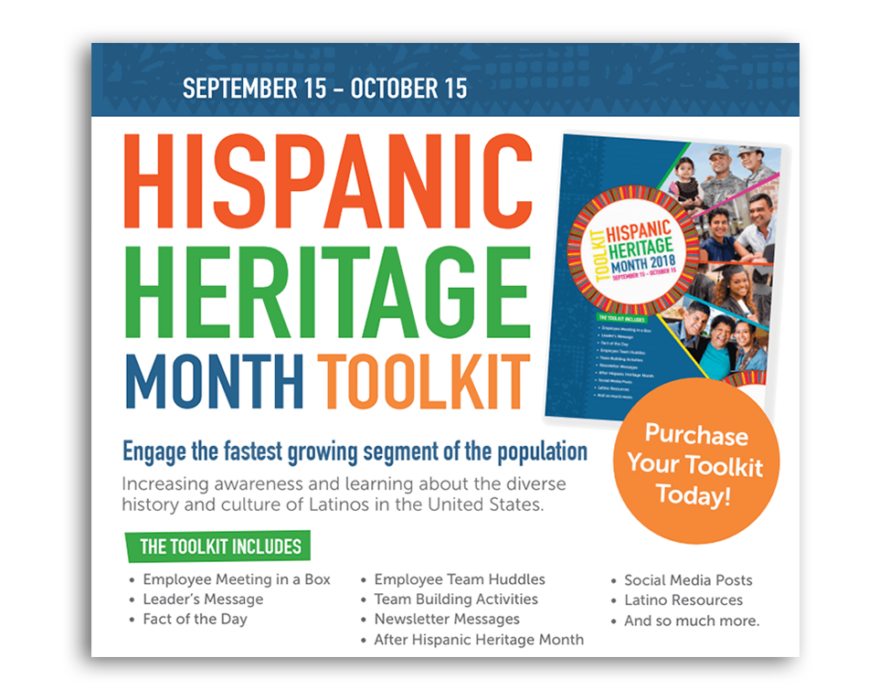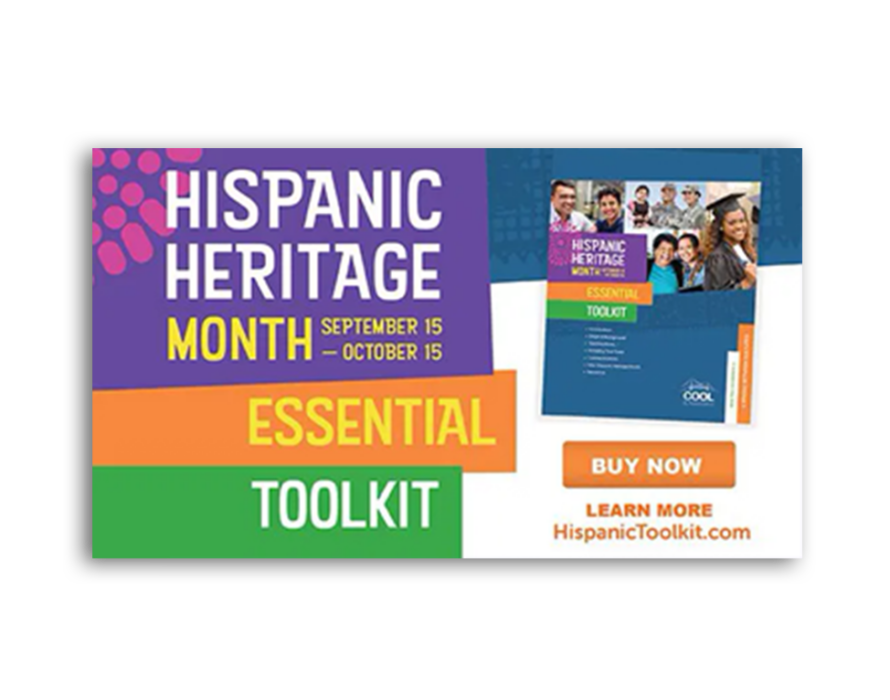 Hispanic Heritage Month is observed September 15-October 15th. This year's theme is "Hispanics: Be Proud of Your Past, Embrace the Future."
Purchase the Toolkit TODAY to save weeks of time planning and preparing. Simply begin implementing our proven tactics to engage your team and recognize the contributions of Hispanic–Americans.
Whether you choose to utilize ONE activity or integrate a variety of the tactics with your existing Employee Engagement and Diversity plan, you can begin to use the Toolkit immediately upon purchase.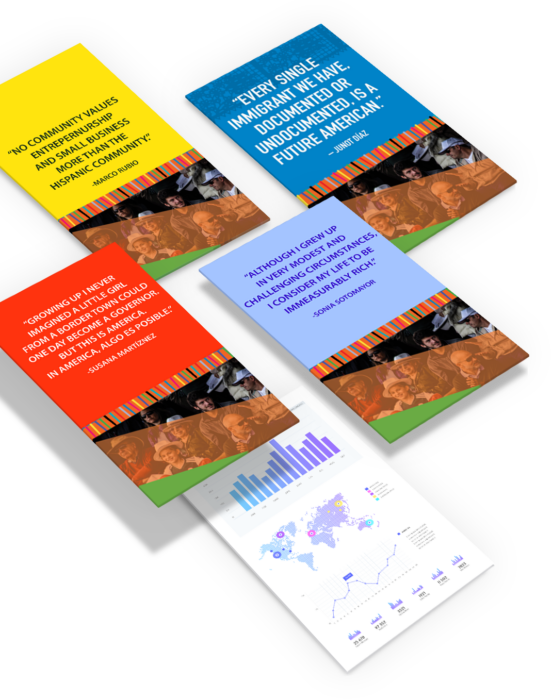 HISPANICS IN THE MILITARY
43 Hispanic-Americans have been awarded the Medal of Honor
Two of those medals were presented to members of the United States Navy

13 to members of the United States Marine Corps

28 to members of the United States Army

25 Medals of Honor were presented posthumously
Hispanics comprise approximately 12% of all active–duty military forces
HISTORY
Hispanic Americans continue to play an integral role in the building of our great nation, our collective rich culture, and our proud American heritage.
With the Hispanic community representing close to 20% of the U.S. population, it is rapidly becoming a huge economic force and a larger portion of the workforce. Effectively engaging them is an organizational imperative that you shouldn't miss.
Save weeks of time by letting us do all the planning for your annual Hispanic Heritage Commemoration!
Remember that:
1 in Six people in the U.S. are Latino
1 in Five millennials are Latino
1 in Four Kindergarteners are Latino
For questions regarding our toolkit or to inquire about services offered by Cool & Associates, LLC, please complete the form. We will get in touch with you within 24 hours.
VERONICA COOL, HISPANIC STRATEGIST & FOUNDER
Cool & Associates, LLC – A Management Consultancy Firm specializing in Hispanic Strategy, Workforce Development & Engagement, Marketing & Training.